Pets are a huge part of what makes IMVU fun!  Not only because you can accessorize your look with your four-legged friends, but also because there are some wildly exotic options to choose from! What's your favorite animal? IMVU has a pet for that!
Cat, dog, horse, rat, snake…tiger? Yup.
BUT ALSO! Robot, alien, dragon, monster, butterfly.
Last month, we had a contest for IMVU's awesome Creators (the ones who have made over 40 million products that you can purchase in our catalog) to make a pet.  The winning pet will be given away as a login gift, when you log into the desktop app between NOW and June 9. We had cats, rats, dragons, cyborgs, crystals (with little faces!) dogs (of course) and even a goat, but that barely scratches the surface of the pets available to you on IMVU. If you missed our live review of the finalists, you can check it out in rerun on our official Twitch channel.
Login gifts are free products automatically added to your account when you login to IMVU's desktop app.  Login gifts are exclusive to the desktop app, click here to download.
Here is the complete list of Best in Show contest winners:
Best non-dog traditional pet (cat, hamster, rabbit, etc) 15,000 Credits:  Rocky the Rat by Chaly4
Best "only in IMVU" pet (tiger, dragon, etc) 15,000 Credits: EnvyBot 2021 by GoodGrief
Best "anthropomorphized object" pet (trash can with eyes, etc) 15,000 Credits: Magic Healing Crystals by Roy
Best new pet mesh (for meshers only) 25,000 Credits:
No valid entries 🙁
How do I shop for pets?
In order to find pets in the catalog, you will need to do a little digging and either visit the slightly elusive Pets category of the IMVU category here or check it out in the more accessible Pets category of the Shop in our Desktop App like so: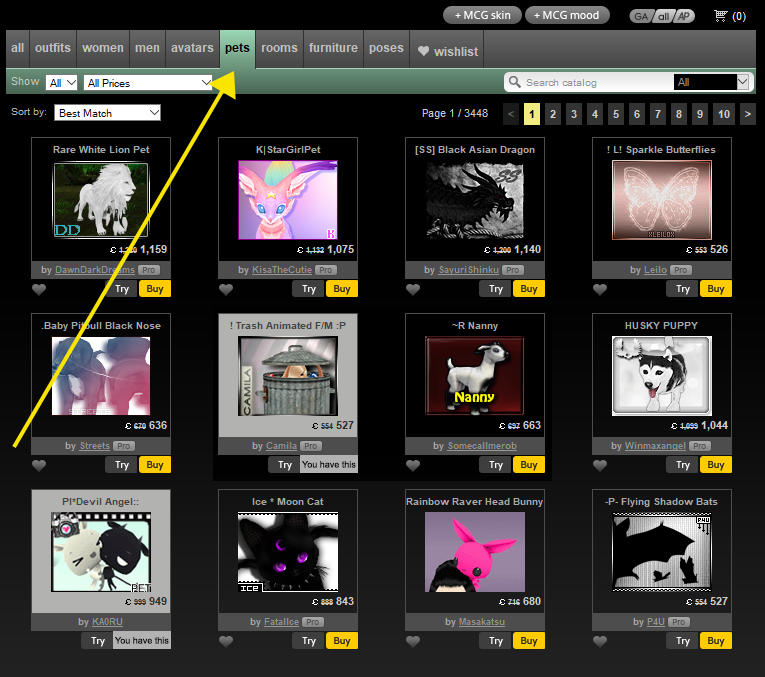 To put on a pet you've purchased, open any tab (like Dress Up or My Room) and click on "Recently Added" or "Pets"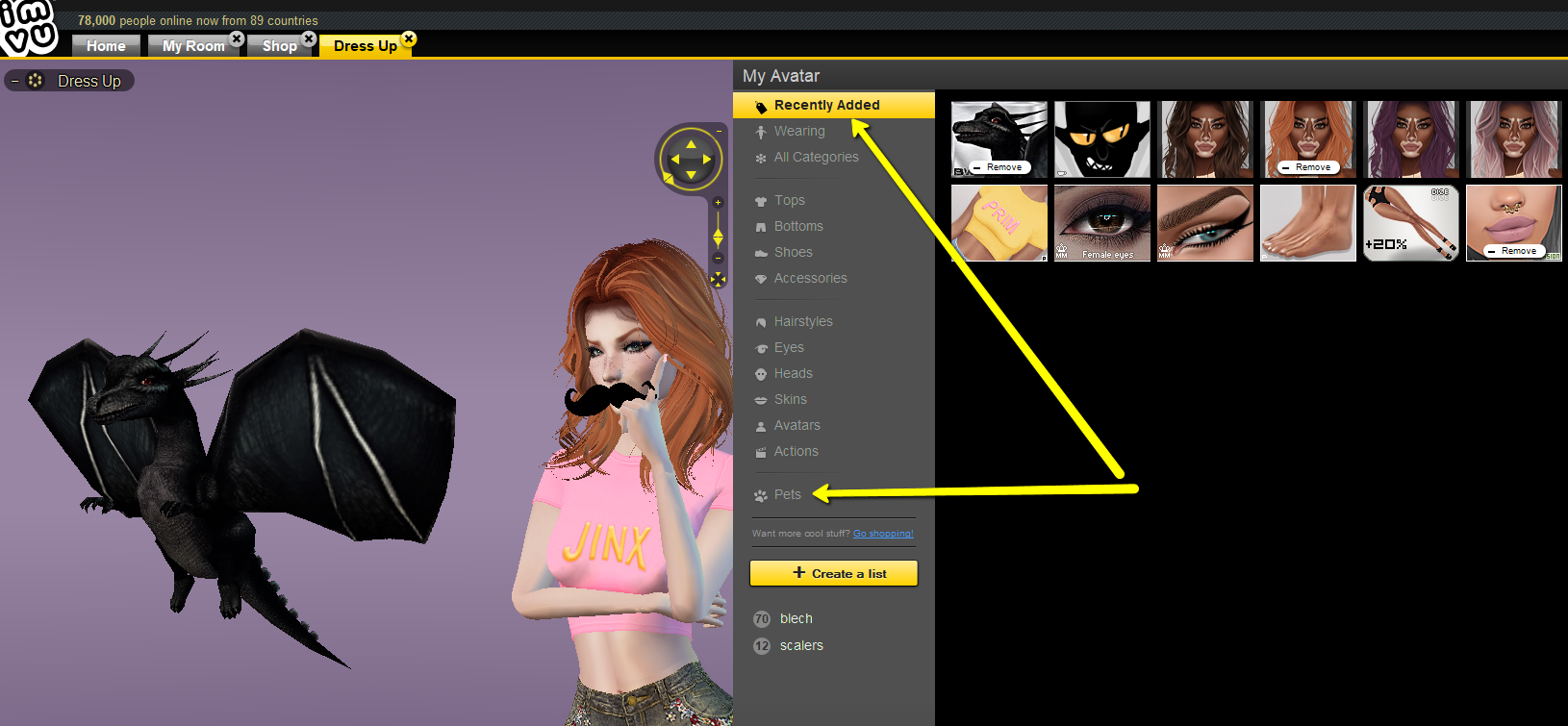 Put on your pet (or pets!) and be sure to click "save outfit":


Did you know your pet can animate?  No, we're not just talking about "Sit", "Stay", "Beg"… we're talking about "FLY", "ROAR", "JUMP", "HISS"!!!  Just like you animate your avatar by clicking on "Triggers" when in a chat room, you'll see the name of your pet in the Trigger menu.  In the example below, you'll see that SirRevenge's snake can hiss, run, and walk.
You are now ready to take your giant tyrannosaurus rex with you anywhere in IMVU, but is IMVU ready for your T Rex?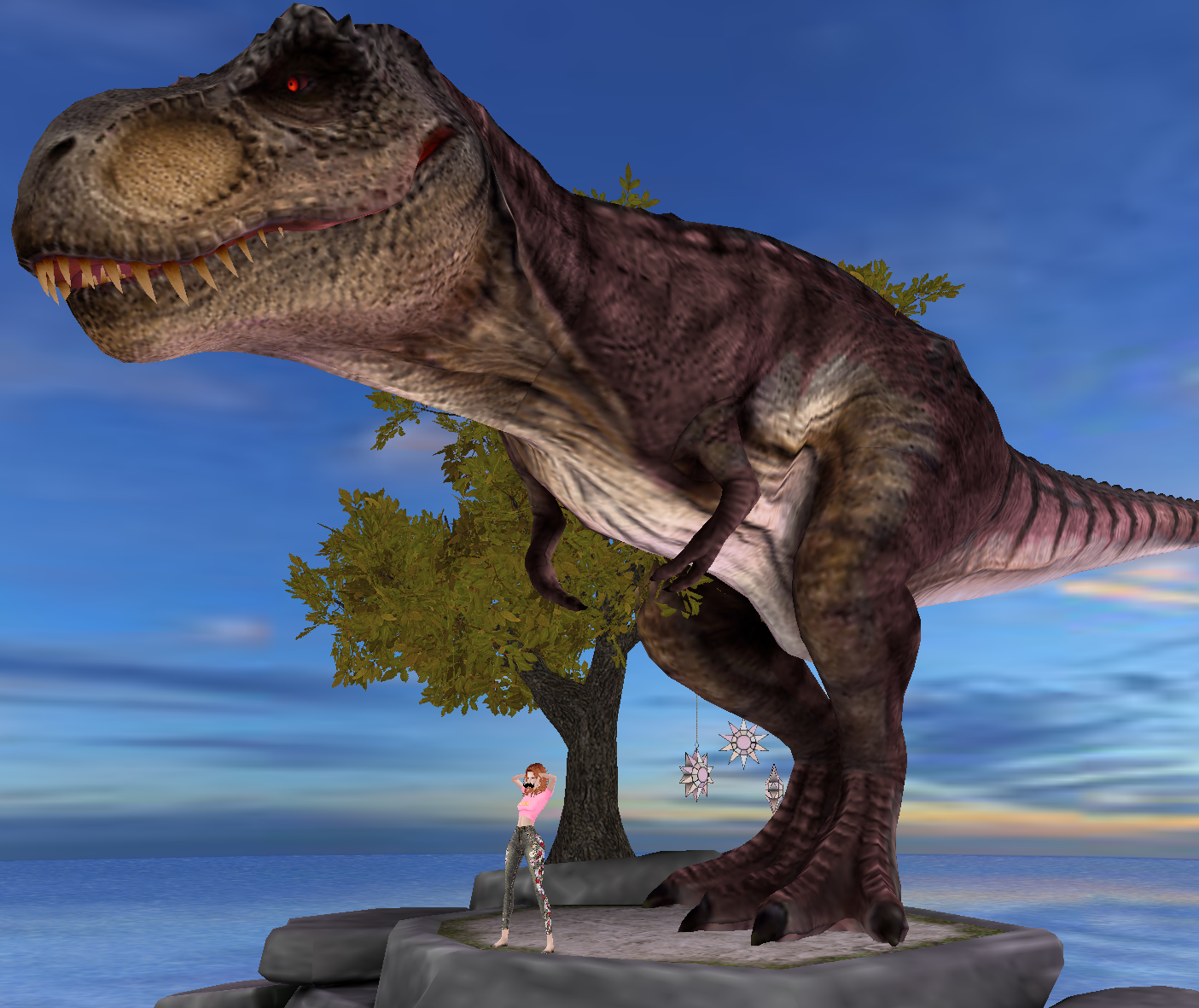 -Laura and my monstrous T Rex