Voice Chat Now Available in 3D Chat
|
Beginning with Release 427, IMVU has introduced a new free service:  Voice Chat.  Invite some friends in, kick back, and actually speak with your friends from all over the world!  Enjoy!  Use your real voice or mix it up with a series of fun and frivolous voice effects!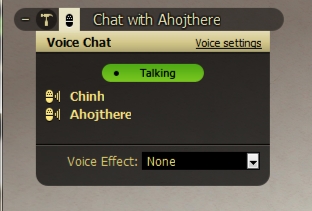 For now, Voice Chat is only available in private chats.
Voice Chat is turned 'OFF' by default, so you'll need to go into your Settings mode to enable it (see below).  You will find this in the Voice Chat section.  Once you enable it, it will be on for each chat and each time you login to 3D chat.
Turn Voice Chat on before you start a private chat.  Then, invite friends to chat from "My Room" mode — and let the fun begin! 
While in Voice mode, you can purchase some voice effects and have fun disguising your voice as you talk to your friends.  Your friends will hear your own voice unless you use a voice effect.
We're excited about this new capability.  However, a change of this magnitude may have a few bumps and glitches. We've worked hard to iron out all the many possible wrinkles, but we're keen to get this into your hands to get your feedback as quickly as possible.  We've got a broad range of enhancements under consideration – including making this available in Public Rooms – and we want to hear from you on what you'd like.
The high quality, clear sound is possible in part through the support of advertising.  Some short announcements will precede your voice chats (unless you own your avatar name or are a VIP). Please say, "Tell me more" when you hear an ad.
As always, IMVU remains committed to ensuring a safe and non-threatening environment. Abuse via Voice Chat will result in the same punishment as any other Terms of Service violation, up to, and including, the termination of your account. So, keep it clean, and be nice to your fellow avatars!
Download Release 427 now to start using this feature!
Enjoy!
Jami
Sr. Community Manager