Send Gifts to your Friends for the Holidays!
|
Surprise your friends with a special gift!
Just in time for the holidays, we're thrilled to announce that you can now send gifts to your friends that cannot be opened until the holiday or event you choose.  For example, you can send your BFF a gift and they'll receive a message that you sent them the gift, but they can't open it until Christmas (or whichever day you choose). Your friend can't use a gift until they open it.
The gift recipient can see all the gifts waiting for them, and when they are available, on a new Gifts Page on the website.  Gift recipients will also receive a reminder message on the day they have gifts ready to be opened.  

You choose when your gift can be opened!
To choose the special day when you want your friend to open your gift, send a gift from the website (i.e. avatar home page, an avatar profile card, your list of friends, the 3D catalog, or the music store).  Click the "on a special day" button, choose from the list of holidays/events, and then send! –It's that simple (see the screenshot below).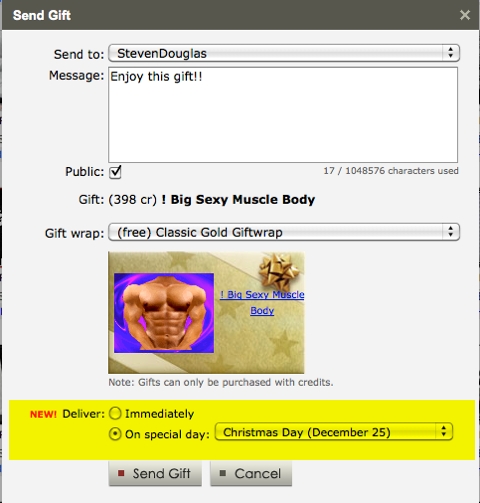 In this first release, we've included as many upcoming holidays and events as we could. In the future,  we plan to expand the list, and even let you schedule your own dates (i.e. birthdays, anniversaries, and other special events). 
Two Ways to Send Gifts in Advance
From an Item in the Website Catalog or Music Store
You can send gifts to those on your Friends list by visiting the 3D Catalog on the website or the Music Store. 
In the 3D Catalog, click the "Gift" button.  In the Music Store, click "Buy IMVU" (for IMVU tracks or albums you don't own) or "Buy Gift" (for IMVU tracks or albums you do own).  Then, click to select your friend, the delivery date, and send the gift.
From an Avatar Homepage or Profile Card on the Website
To send a gift to a particular person, use "send message" from their Homepage or Profile card.  In order to send a gift, there must be items on your (or your Friend's) wishlist or giftlist.  Adding items is a breeze; simply visit the Virtual Goods Catalog or the Music Store.  Your wishlist includes items which you do not own, but would like to.  Your giftlist includes items you own, as well as items you don't own.
— To add an item to your own wishlist: Find the 3D product, sticker, or music store track you wish to add, and then click the star.  You can also add 3D products and stickers to your wishlist while you are participating in Peer Review.
—  To add an item to your giftlist:  Find the 3D product or sticker you wish to give to a Friend.  Click on it to get to the Product Details page.  Click "add to giftlist."  For IMVU music, all music store IMVU tracks on your music wishlist are available for gifting. 
Happy Gifting!