Pulse…Now in IMVU's 3D Chat Client
|
Recently we launched a new feature called Pulse on our website for all our members. IMVU community has been enjoying using the feature to update their friends, keep connected with them and even make some new ones!
With the release of IMVU's client version 446.0, we now bring this exciting and engaging feature inside our 3D client. Download the latest version today and start connecting with your  friends in this new way!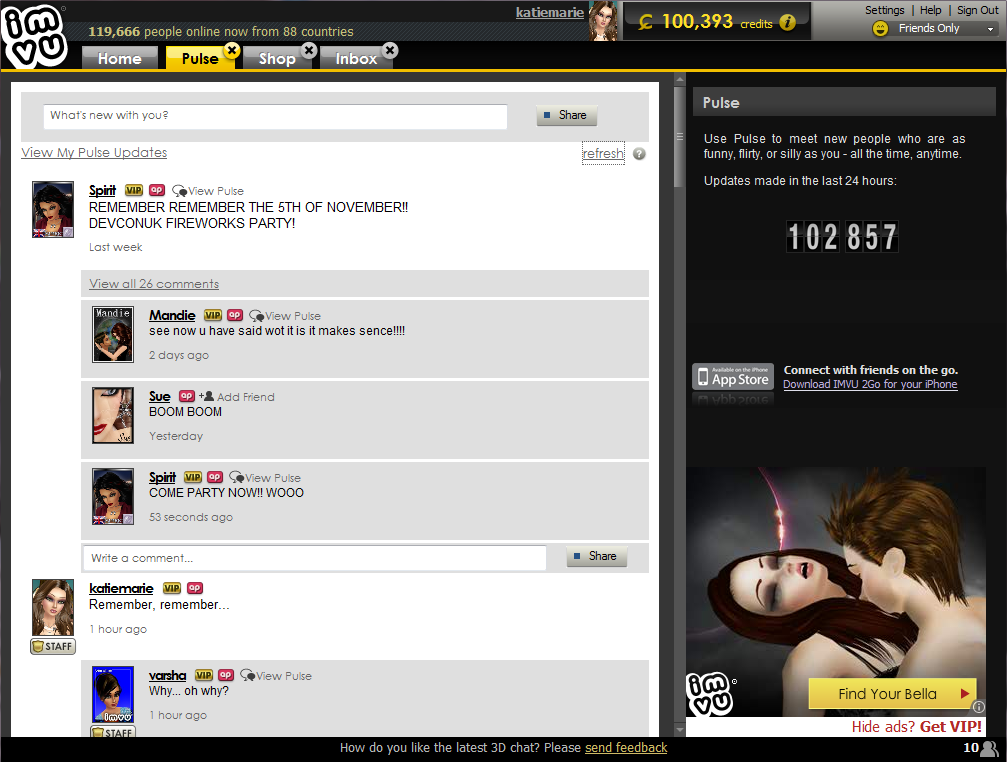 You can access Pulse in the 3D Client right on your home page (see the Pulse tab on the left) or its own mode button on the menu pages. See the popularity of the feature yourselves by checking out the counter of updates displayed on the screen.
With Pulse you can:
Share what's on your mind with your IMVU friends by posting a status update or a "pulse."
Read and comment on status messages posted by your friends and friends of friends.
Reach out and connect with other IMVU members by inviting them to be your friends.
So how does Pulse work?
You can see updates posted by users who are your friends on IMVU. Your Pulse wall and status updates are only visible to your IMVU friends. You can comment on messages from your friends as well as comments left on their walls by their friends.
When someone comments on your Pulse update or if someone comments on a Pulse you've also commented on, you'll get an email notification. You can choose to opt out of these notifications by changing your email preferences under the Account settings. Simply uncheck the "We will send you email when a Pulse thread is updated" option.
Safety option is also available within this feature, and it will allow users to report content that does not meet IMVU's Terms of Services.
Enjoy connecting with your friends while playing in the 3D Client!
Varsha
Sr. Community Manager