By: Varsha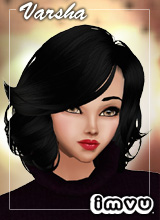 IMVU community members take great pride in dressing up their avatars to the hilt and decorating their chat rooms to perfection. Each and every outfit and room is a perfect showcase of their unique talent, artistry and creative skills. What better way to show off their creations than capturing them in photos while in the 3D Chat app? Hundreds of thousands of photos are being snapped every day and shared within IMVU.
IMVU members of course want to tout these awesome photos to their friends not yet on IMVU via various social networks that they engage with. Social sharing is part of all of our lives and photo sharing even more so. Telling someone how much fun they are having on IMVU is one thing but showing it via photos is quite another. That is exactly what our customers can now easily and effectively do.
Our recently introduced Photo Stream feature allows the IMVU community members to share their photos on their Facebook wall or Pinterest board with just a click. They get to "show and tell" about their activities on IMVU and entice their friends to join in the fun. The photos they share tell their story and their love for IMVU. Plus, along with bragging rights our customers get to earn some IMVU Credits as they share their own photos or our staff picked Photo of the Day to their social networks , and their friends join IMVU via those photos!
We are enjoying the flurry of activity our customers are engaged in sharing their photos and welcoming their friends and family into the IMVU community. Keep being social shutterbugs and have fun!