Outfits Enhancement in the New IMVU Client
|
Exciting New Outfit Enhancements in the 3D Chat
Have you ever wanted to easily change into that perfect swimsuit when joining a public room set at the beach?  Or quickly change into your favorite club gear when joining a dance club?  Well, now you can! In v430, we have added outfit functionality in 3D Chat.  The new outfits functionality allows you to easily view all your outfits, change their categories, flip through them like a photo book, or just classify them however you want. Remember in the last release when we added the tool strip? The new tool strip really shines here: you can easily create an outfit, click over to save it, and jump right back to creating more outfits. It's easy, simple, and fast.

The first thing you'll notice when you go to My Outfits is the streamlined look that shows you a snapshot of your outfit and the things you can do.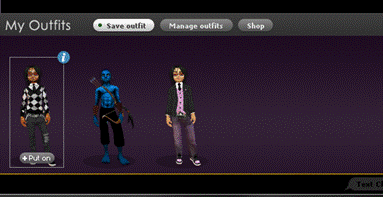 There are two ways to manage your outfits: the first is by clicking on the Manage Outfits button, and the second is by clicking on the i button that shows up when you hover over an outfit. Manage Outfits can be used to modify a single outfit or multiple outfits. It's also where you'll go to create new categories of outfits.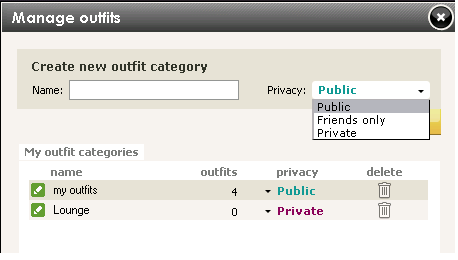 You can change the privacy level of an outfit category at any time by clicking the current privacy level of an existing category. You can also delete the category. You can also change the privacy level and category an outfit resides in by clicking on the i when you hover over that outfit in the display. Once you've clicked on it, you'll see the Outfit Card, which is similar to the Avatar Card you're already used to!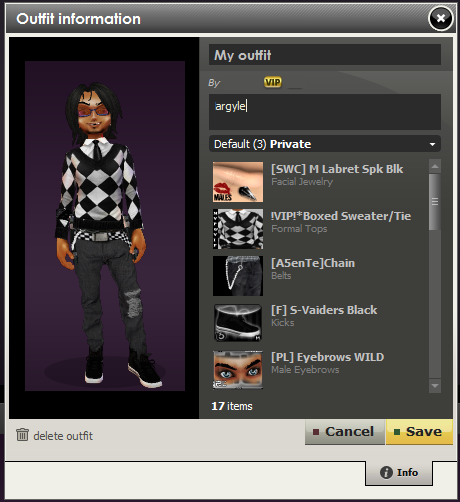 You can name the outfit, add a description, modify the outfit category, and delete an outfit from the Outfit Card.

Attention: Daily Outfit Contest users: We have maintained the ability for you to create  snapshots with custom poses.  To create outfits with custom poses, please type *saveOutfit into the chat bubbles. Grab your copy of the new IMVU Client today, so you can start enjoying these great new additions as soon as possible!