New Features Coming Soon!
|
Update – 7/16/09: New Features Now Available, read more here.
Since unveiling the All-New 3D Chat, the team has continued working hard to build more new features and functionality to respond to your feedback.  In fact, many of the features you've asked for are nearly complete.
Coming very soon:

Shopping
– Actions: New product actions, or triggers, within the Shop mode will give you the ability to try animations before making a purchase (see screenshot below). You'll notice that the action words are color coded to match the frame around the related product.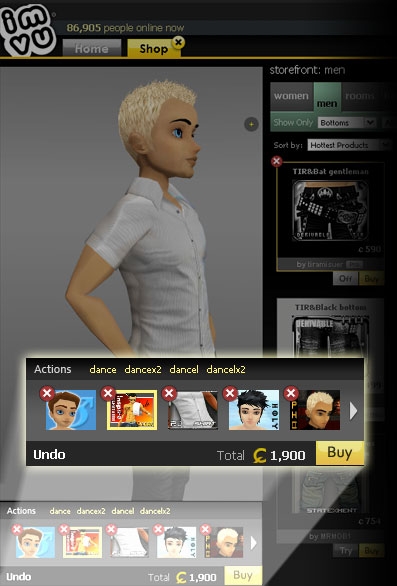 – Undo: Undo, or revert back to, the last item or outfit you had on. Easily remove a product or outfit that you've tried on (see screenshot above).
– Carousel: Currently, the shopping carousel at the bottom of the dress up area of Shop mode shows a history of everything you try on in 3D Chat. Going forward, it will only    show what your avatar has on, to make it easier to find what you are trying on.
– Credits mode: Easily add credits to your cart to purchase right from within 3D Chat. Or use your saved credit card info to instantly refill your credit balance with a single click (see screenshot below).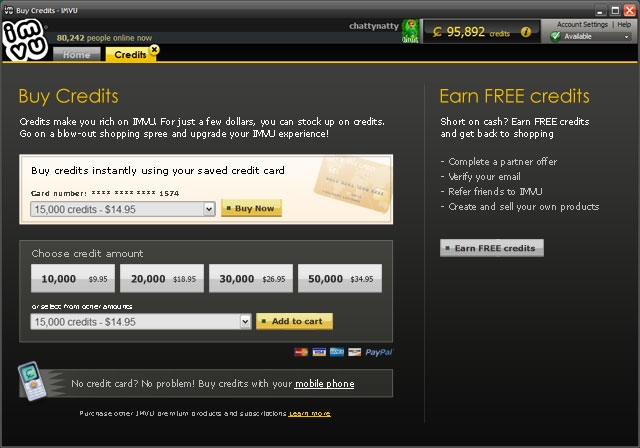 Friends
– Finding Friends:  Search by avatar name in the search box in the Find People mode to easily find your friends.
– Adding Friends: A new button in the Find People mode (see screenshot below) allows you to make new friends more easily. Within the Friends window, you will be able to enter an avatar name and send a Friend Request.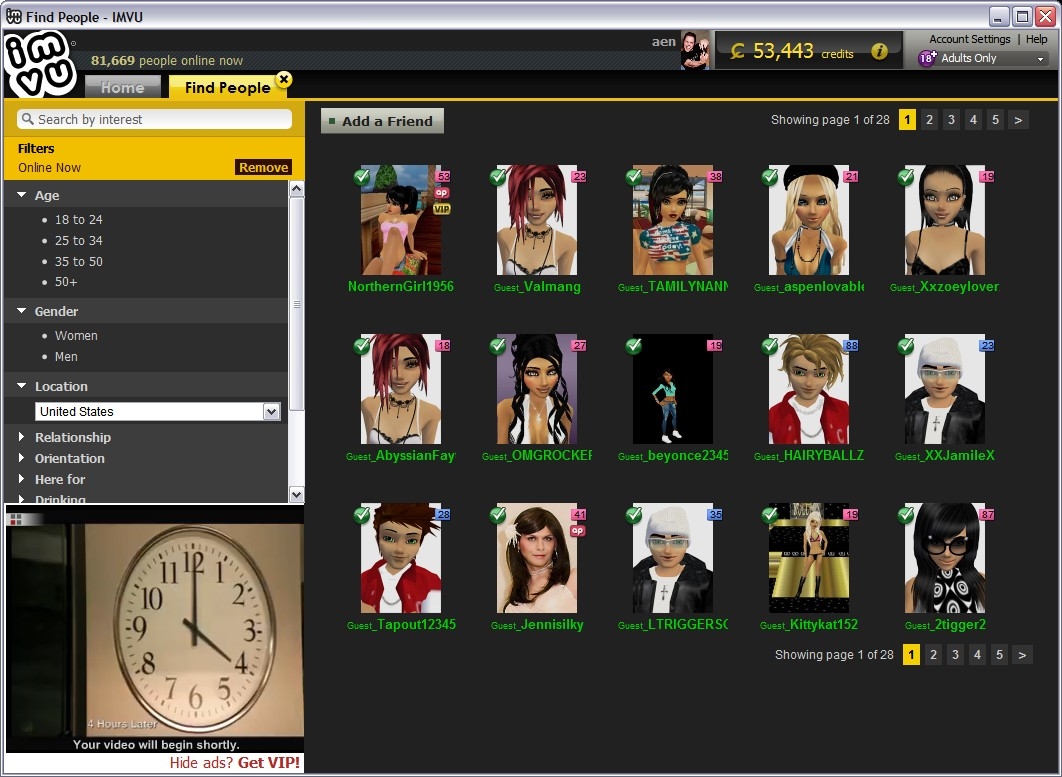 Chat Invites
– Added messaging to confirm when your chat invitation is sent, so you aren't left guessing.
– When you invite someone to chat from your room, you will stay in your room (rather than ending up in the person's room that you invited).
Inbox
– Missed Chats: A new tab within the Inbox mode allows you to find missed chat invitations.
Favorite Rooms
– Many of you have asked where your Favorite Chat Rooms have gone. When you downloaded the latest version of IMVU, your favorites were not carried over. You can still find your favorites by temporarily reverting to the old 3D Chat experience, going to the Friends window, and under the Settings menu, un-check "Use New UI". Once you change that setting, logout, and restart IMVU.  Take note of your favorite rooms, and then follow the same steps above to get back to the new version by checking "Use New UI" and once again restarting IMVU. Once you are back in the new 3D Chat, you can add these rooms to your favorites by going to the Chat Rooms mode, searching for the room, and then clicking the Info button for the room. You'll notice the link to add the room to your favorites beneath the room image.
The good news is that now Recently Visited and Favorite Chat Rooms will always be saved when you download more recent versions.
Decorate Room vs. My Room
– "Decorate Room" will be renamed to "My Room" to reduce confusion. You'll still use the My Room mode when you want to edit your room.
But that's not all! Expect the following features in the near future:

Shopping
– Wishlist: Add items to your wishlist from within the new 3D Chat.
– Outfit Management:  Create an entire look, purchase it, and save it as an outfit; all in one easy step.
Friends Window
– The Friends window will be integrated into the main 3D Chat window, so you'll only need to manage one IMVU window.
– The Home Screen will show when your friends are online, where they are, and if they are in a Chat Room.
Chat Now
– Better matching with other users based on your specified preferences.
We hope you are as excited as we are as we continue to enhance and fine tune the All-New 3D Chat experience!
Best,
Jami
Sr. Community Manager