New Features Available in 3D Chat: Download 416.0 Now
|
Update – 7-21-09 4:04 PM PDT: Please see the latest post with an update on the three most common comments from this post here.
You asked, we listened. Several of the features you've asked for since we unveiled the All-New 3D Chat are now available for use in the latest release (416.0). You can download the latest release here. 
New Features now available include:
Shopping
– Actions: You now have the ability to try actions, that trigger animations within the Shop mode before making a purchase (see screenshot below). You'll notice that the action words are color coded to match the frame around the related product.
For those unfamiliar with "actions", or "triggers", these are a kind of action that is embedded into a product you are wearing (like an avatar or a pet), a piece of furniture, or a room. When you type a specified word into the text box, it initiates the animation within the product or room. Blush Trigger is an example of a product with an action. If you own this product and type "blush" into the text box, the cheeks on your avatars turn pink. You can find more examples by searching "trigger" within the product catalog.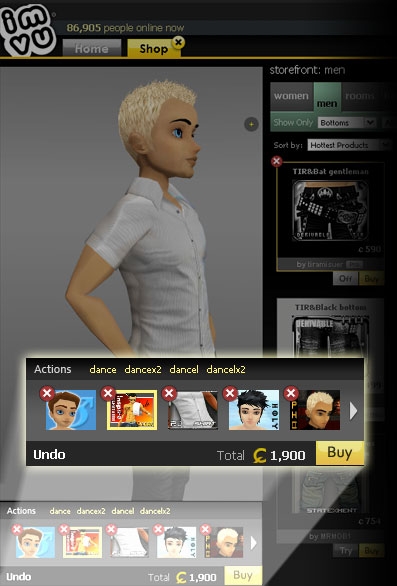 – Undo: You can now undo, or revert back to, the last item or outfit you had on. Easily remove a product or outfit that you've tried on (see screenshot above).
– Carousel: Previously, the shopping carousel at the bottom of the dress up area of Shop mode displayed a history of everything you try on in 3D Chat. Now, it only shows what your avatar has on, to make it easier to find what you are trying on.
– Credits mode: You can now easily add credits to your cart to purchase right from within 3D Chat (see screenshot below).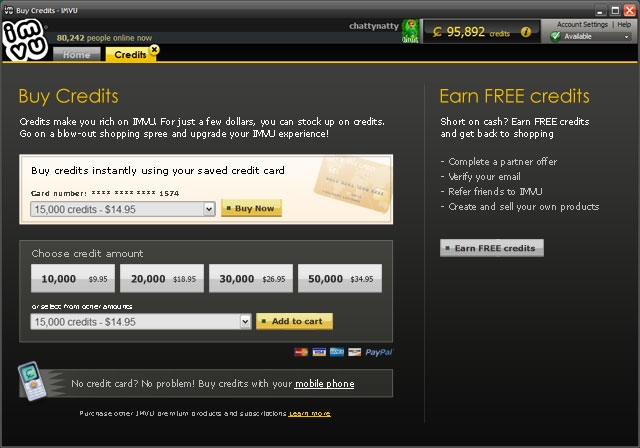 Friends
– Finding Friends:  You can now search by avatar name in the search box in the Find People mode to easily find your friends. *Please note that it may take a couple days before you find all your friends by searching for them since it will take a little time to populate the databases.
– Adding Friends: We've added a new button in the Find People mode (see screenshot below) that allows you to make new friends more easily. Also, within the Friends window, you can now to enter an avatar name and send a Friend Request.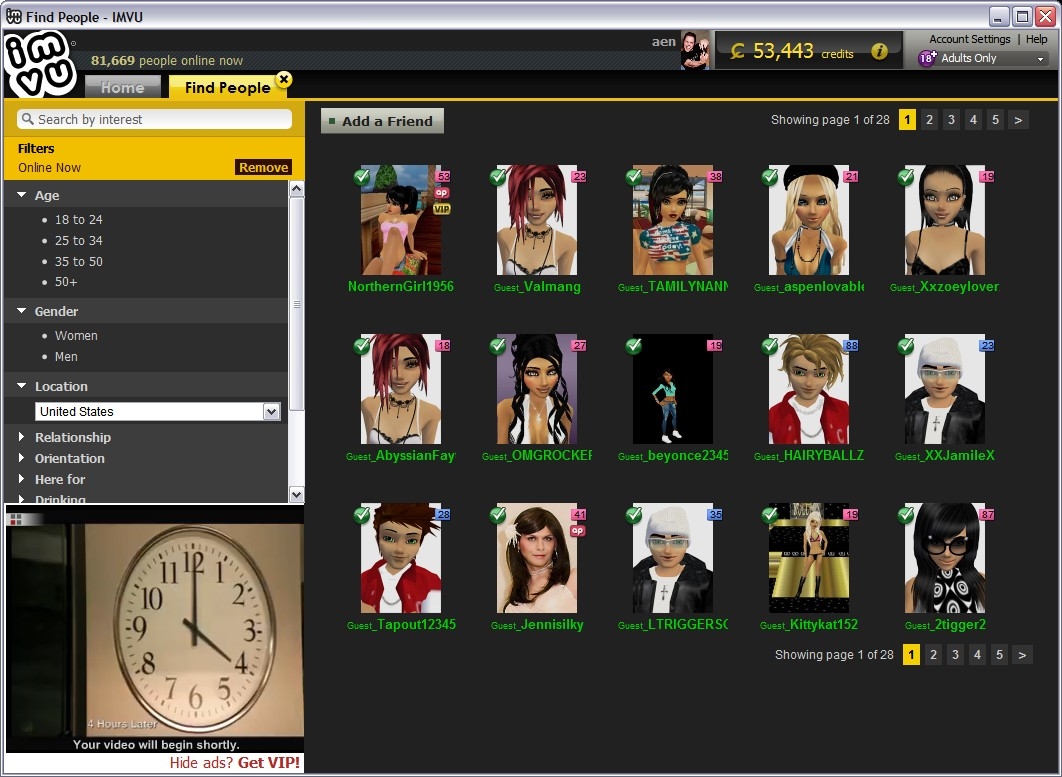 Chat Invites
– We've added messaging to confirm when your chat invitation has been sent, so you aren't left guessing.
– When you invite someone to chat from your room, you will now stay in your room (rather than ending up in the person's room that you invited).
Inbox
– Missed Chats: We've added a new tab within the Inbox mode that allows you to find missed chat invitations more easily.
My Room vs. Decorate Room
– We've renamed "Decorate Room" to "My Room" to reduce confusion. You'll still use the My Room mode when you want to edit your room.
The team is continually working on even more new features, for a sneak peek; please review my post from July 10th. 
Click here to get the full scoop on the All-New IMVU.
You can also find answers to many of your questions about the new IMVU 3D Chat by visiting the Frequently Asked Questions page here. If there are any questions we've missed, please let us know by posting a comment below.
We hope you are as excited as we are as we continue to enhance and fine tune the All-New 3D Chat experience!
Best,
Jami
Sr. Community Manager