Multi-Gifting Available to IMVU VIPs!
|
The IMVU community loves to dress up, chat, and decorate their chat rooms to the hilt. They do so thanks to millions of virtual products created by our Creators and available for purchase in our catalog. Our community members are also quite generous and love to gift each other any items that they fancy.
Until now, IMVU users could only send gifts to their friends one at a time. With our latest 3D Chat version 474.0, we are introducing a new feature called Multi-Gifting! This feature is only available to our elite VIPs as a sneak peek….. So download it today and check it out for yourselves!
What is Multi-gifting?
Well, as the name suggests, members of our exclusive VIP club can now gift any item from our catalog to one, a few, or all of their friends in one easy step. For our Creators, we think this will be a great merchandising tool. For all VIPs, this will help them spread their generosity a bit easier!
With multi-gifting, when you click on the "Gift" icon for any product in our virtual catalog (website or 3D Chat's Shop), a dialog box will open up showing the user's  friends list.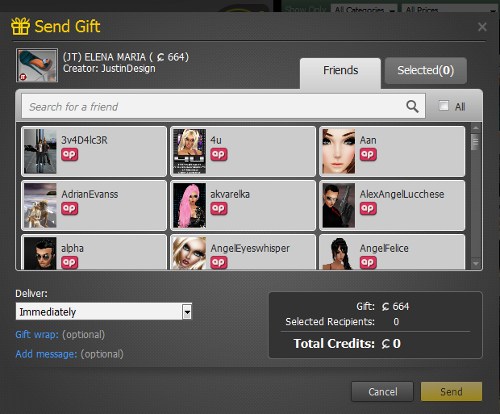 You can then select as many friends as you wish to gift that product to.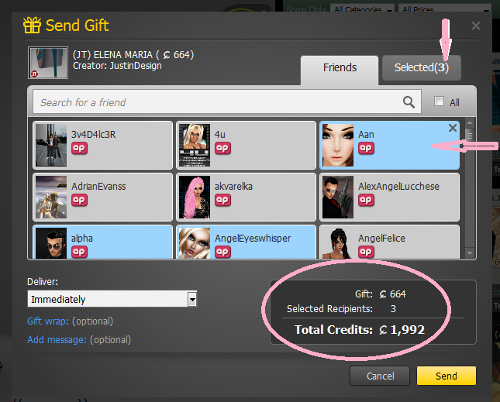 Then, only thing left to do is add a note and some free and creative gift wrap (if desired) and click send!
We hope all our VIPs enjoy this easy, one-step way to bestow gifts on multiple friends! If you have not yet experienced what being an IMVU VIP is all about then this is the perfect time to join the club! Our VIPs not only get sneak peeks to many exciting features such as Multi-gifting, but also many more perks such as monthly gifts, catalog discounts, exclusive sales, and an ad-free experience.
Happy Gifting!