Mac Users – Welcome to IMVU!
|
We are excited to officially launch IMVU's first Mac client for Apple computers. Now Mac users can join IMVU's thriving online community and social entertainment network where members use 3D avatars to meet new people, chat, create and play games with their friends, The Mac version has been in testing for a few weeks and it still in beta mode. Download it today and start playing – It's free!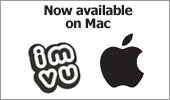 Our CEO, Cary Rosenzweig (CaryJay) says, "We're excited that Apple customers can now, for the first time, participate in the IMVU community of more than 50 million registered users. We're opening up IMVU to a group of creative individuals who are sure to make an outstanding contribution to the IMVU community."
IMVU's new Mac client delivers outstanding social entertainment experiences that have been available on the PC since the company first launched IMVU in 2004. Users new to the IMVU platform can easily create a free account and select an avatar of their choice. Members can then immediately begin exploring IMVU to meet new people, chat, create and play games with their friends. They can also check out IMVU's virtual goods catalog of more than four million items – the world's largest – in order to begin creating online personas as unique as they are. We continue to work on the Mac client and each version will deliver additional features to make it just like the Windows client. The Client is compatible with Mac OS X 10.5 or higher with Intel processor.
So if you have a Mac, come join the party and give us feedback!
Best!
Varsha B
Sr. Community Manager