IMVU Mobile – A New Way To Experience IMVU
|
Our popular IMVU experience is now available when you are on the go! IMVU Mobile is available free for iPhones and iPads from the App Store, for Android devices from Google Play, and from any mobile browser at m.imvu.com.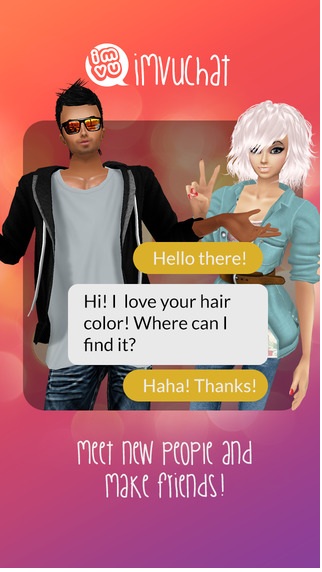 IMVU customers enjoy customizing their avatars, being creative, meeting people in thousands of chat rooms, and making connections that can last a lifetime! The 3D avatar based social network that they are a part of is now never too far thanks to our new and still-in-development mobile version.
Our current customers who primarily use our downloadable desktop product can now use the mobile experience to:
Log into their IMVU accounts
Dress up their avatars with their favorite outfits
Explore and join public chat rooms – including their favorites!
Chat with their customized avatar representing them in the scenes
Stay in touch by accessing messages and friends
People finding us via their mobile browsers for the first time can register for new IMVU accounts and join the community with an avatar they customize, meet people from around the world and make friends.
Try out IMVU Mobile today via your mobile browser or by downloading the app from the App Store or Google Play Store. We are looking forward to feedback from our community as we continue to enrich the experience with more features.
Press release announcing IMVU Mobile.