Exciting New Content on Facebook!
The IMVU Facebook Page is now the place to go for exclusive content! Check out the brand new "IMVU Zone" tab for contests, videos, and more. Every week there will be new stuff to do and chances to win FREE IMVU credits.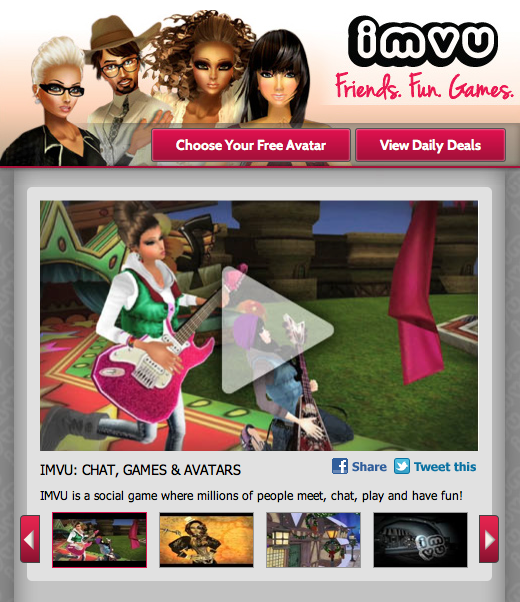 Become the IMVU Fan of the Week
Each week a different person will win 5,000 credits and a feature on the IMVU Facebook page.  We'll display a photo and fun info about every winner. Enter to gain instant IMVU fame.
A new Fan of the Week will be announced every Friday afternoon. If you're looking to make a ton of cool IMVU friends, nominate yourself today!
Watch the Latest IMVU Viral Videos
Cat videos may be cute, but nothing beats the latest videos coming from IMVU.  Catch IMVU in action with new videos now on Facebook. We'll be constantly creating fun and hilarious clips capturing the best IMVU moments.
Check out our videos and leave a comment telling us what you'd like to see next.  Maybe a Glee parody? Or Kim Kardashian as an Avatar?
Check Out Staff Favorites
Want to know what IMVU employees think are the hottest products in the catalog? Get Staff recommendations every week exclusively on the IMVU Facebook page. Find new and stylish furniture, clothing, and accessories. With fashion tips from the IMVU Staff, you'll be the most stylish person around.
We're excited to provide a fun Facebook page where you can meet other fans and get exclusive content. Check out IMVU on Facebook today!
Happy Holidays!
The IMVU Team