Create up to 10 Chat Rooms on IMVU!
|
On the heels of our recent announcement, we are excited to tell you about  further additions and improvements to our popular Chat Rooms feature.
Everyone can create their own Public Room in 3D!
Our customers love their rooms where they express their creativity in and invite new and old friends to hang out with. Previously only our AP and VIP users were able to create their own rooms. As of today, our entire community gets to have a room to create and manage – for FREE!
Just download our latest 3D Chat – version 462.0 or above here and start showing off your creativity.
With the latest 3D Chat, our members can create and manage all their chat rooms right inside the 3D experience. Simply go to the Chat Rooms feature and access the room management tools. Choose the type of room to make, set up who can participate in your room, add a cool image as your room icon and start having fun.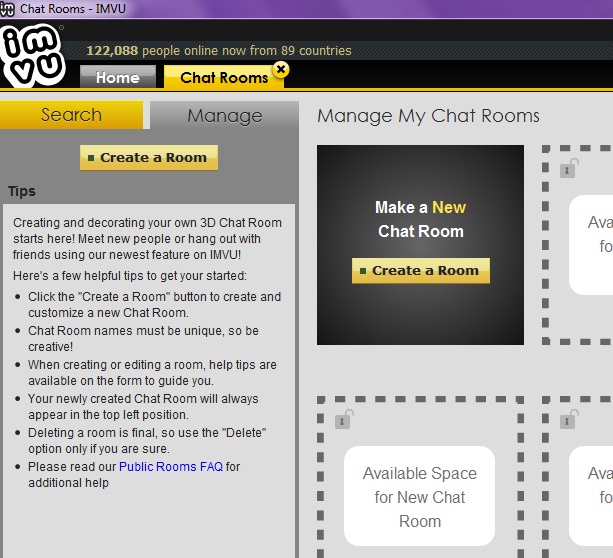 Set up your room to suit your interests, language preference and liking and have fun with other IMVU community members. Our recent changes make the room occupancy information timely and accurate allowing your guests to join your rooms easily.
Please note that the room management tools are now exclusively available in the 3D Chat Client and will not be accessible from the website.
IMVU's VIPs have 10 times the fun!
One of the most common request from our members is they want to have more such rooms. Well, effective today, you can! Join our exclusive VIP club and get the ability to own up to 10 rooms.
Our current VIPs get this as a special gift from us to them. They automatically get additional rooms to make and decorate. We are thrilled to offer this feature  and hope our current and future VIP club members enjoy this benefit to its fullest.
Simply download IMVU's latest 3D Chat – version 462.0 here and start creating your rooms today. If you are not already an IMVU VIP, this is the perfect time to become one.
Please remember to keep your VIP subscription active to maintain access to all your rooms.
So IMVU VIPs, create and decorate your 10 rooms and show them off today!
Enjoy!
Varsha B