Community Spotlight – The March Edition
|
By: Varsha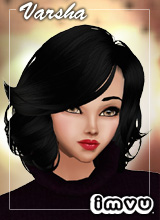 April is around the corner and IMVU community is recovering from its St. Patrick's Day celebrations and getting ready for spring at the same time!
Like every year, St. Patrick's Day brought clovers, emerald green outfits, rainbows, pots of gold cleverly displayed in chat rooms and, of course, the Luck of the Irish for everyone! Parties and parades took place all around IMVU on Sunday, March 17th. Plus, our community gleefully participated in our Photo Stream contest to get their own pot of credit prizes. We asked them to dress up their avatars and decorate their party rooms to the hilt in the holiday theme, invite their friends and do what they do best – have fun. They captured the fun in colorful, vibrant and creative photos and shared them to their photo stream for all the community to enjoy. We here at IMVU loved browsing through all these photos and picking out the winners for the contest. Here are some that caught our attention:
Now we are eagerly anticipating the enchanting spring season that lies ahead. We have lots of seasonal products springing up in our catalog, which is overflowing with more than 10 million products, themed bundles as well as some promotions in the works. Be sure to peruse all of the latest goodies and make sure your avatar has a spring in his/her step!
Happy Spring everyone!