Celebrate the Holidays with IMVU's "Gift-a-Day Blowout"!
|
We are excited about the upcoming holiday season and wanted to share the joy and merriment with all our members. Starting tomorrow, December 1st, we are launching a special promotion called "Gift-a-Day Blowout"!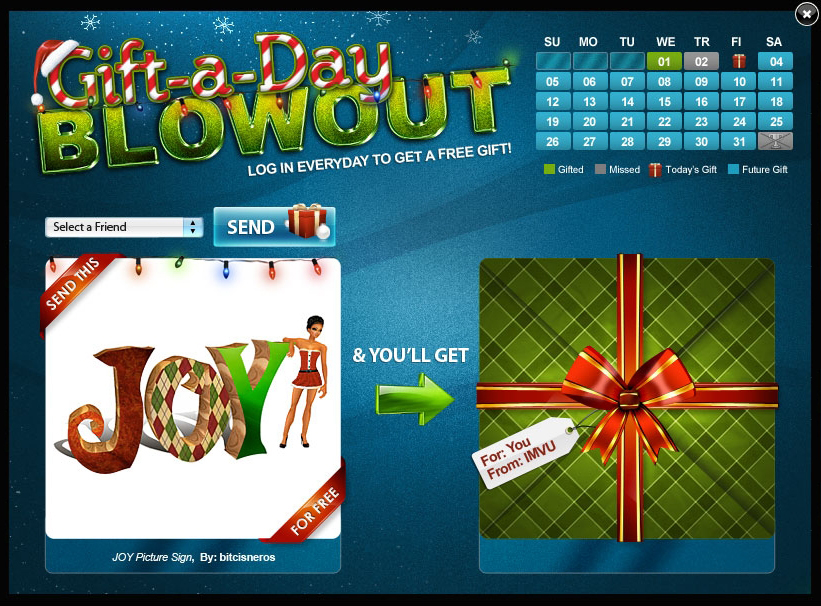 How do you participate? It's pretty simple and FREE…
Download our latest 3D client  (http://www.imvu.com/download.php) – version 449.0 available as of December 1st.
Log into IMVU 3D chat (

version 449 or higher

) at least once every day during the month of December.
In the spirit of sharing the holiday cheer,send a unique and exclusive gift to any 

one

of your IMVU friends. There will be a different gift to give every day of the month and only way to get that same gift for yourself is if one of your friends chooses to send you that gift!
To celebrate your generosity, get a different free gift for yourself from IMVU made exclusively for the blowout by one of IMVU's awesome Creators. Remember, you get your own special gift only AFTER sending the daily gift to one of your friends.
Make sure you log in everyday and send your gift, and of course receive your own. If you miss it, you can't get it again!
There is also a special super bonus prize if you log in on all 31 days of December and send and collect all the free gifts! Collect all 31, and receive another extra-special gift when you log in on January 1st plus an exclusive gift to send to one of your friends!
Get ready to celebrate the holidays with IMVU and all your friends starting December 1st!
Cheers,
Varsha B
Sr. Community Manager