Atari's Missile Command – Now in IMVU Games!
|
Originally released in 1980 by Atari, IMVU partners with OMGPOP to proudly bring back Missile Command!  The concept remains the same, but with exciting twists and additions!  Play Missile Command, a title from the Golden Age of Video Arcade Games – now right here in IMVU Games. So start playing and light up the sky like it is Fourth of July!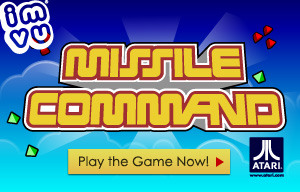 Missile Command is a timeless classic that continues to attract gamers old and new! The modern version has more bosses, multiplayer game plays and high fidelity graphics. You can play alone or play with your friends – and make new ones as you dominate the sky. Defend your base against a number of incoming threats using speed, accuracy, and precise timing with Counter-Missiles.  The game allows up to 7 players to participate at the same time.  Blast everything out of the sky that comes your way and see how high a level you can achieve! You can customize your missiles as you advance in the game.
So start playing this classic with a new flavor!
Best,
Varsha B