"The Lake"—IMVU's Latest Web Video Series
|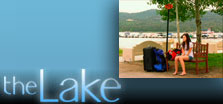 Trying to pack as much excitement in as possible before summer ends? Check out IMVU's latest web video series, "The Lake".
For three months during the summer season, families come to Lake Eleanor to escape the trials and tribulations they face back home. For the young adults of these families, summer is a time to reinvent themselves. Olivia Harris, new to Lake Eleanor, comes in with low expectations, but quickly becomes friends with a tight-knit group of teens that hang out every summer. The recently blended family of the Knights and the Davenports make up half of this clique – the artsy Madison; the goofy and self-conscious Drew; and their stepsister, the gorgeous Alexis. They are joined by the handsome Ryan Welling and local Luke Campbell. Luke has recently been charged with covering up for his younger sister, Shelby, who is mysteriously absent from the lake. From Jason Priestley and Jordan Levin, "The Lake" explores the romances, jealousies, friendships, and rivalries made all the more precious by their fleeting nature. When summer gets too hot, head for "The Lake."
Want another reason to watch it? How about some free credits? IMVU will give you 10 free promo credits for every episode of "The Lake" that you watch. Check it out!
* Please note that this web video series is only visible to users in the United States.